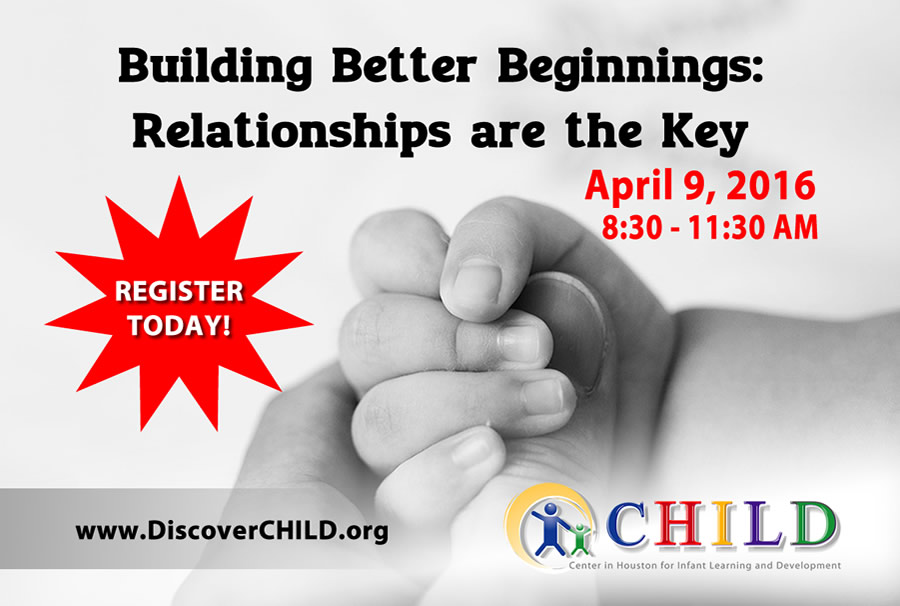 Training Title: Building Better Beginnings: Relationships are the Key!
Trainer: Diane T. Goyette
Location: United Way of Greater Houston, 50 Waugh Drive, Houston, Texas 77007
Time: 8:30 am – 11:30 am
Cost: $20.00 (Snack Provided)
Group discounts provided:
(10% discount for groups of 5-9 people, 20% for 10+ registrants)
Contact Aaron Carrara at 713-222-2482 to take advantage of group discounts).
Training Description:
The children in our care deserve the best beginning in life we can give them.  Recent brain research shows that warm, caring relationships between adults and young children are THE foundation for children's healthy development.  Strong, secure relationships benefit children's social, emotional, cognitive and physical development, their achievement in school, and even their lifelong physical health.  As caregivers and teachers, we can have a huge impact on children's lives both now and later, especially for those children who may be experiencing toxic stress.
Attend this training to learn how to create and maintain secure attachment relationships with infants, toddlers and young children.  Discover how to determine whether your relationships are going well, what your role as a sensitive and responsive teacher should be, and the importance of your program providing relationship-based care. You will come away with many ideas for strengthening your relationships, including interaction strategies and connecting activities that are enjoyable for you and your children!
About Diane T. Goyette:
Diane T. Goyette, M.A. is a Child Development Specialist, a Master Registered Level Trainer with the Texas Early Childhood Professional Development System (TECPDS #1420), and a certified Child Care Health Consultant (CCHC).
Diane holds a Master's Degree in Child Development from The University of Texas at Austin and a Lifetime Texas Educator Certificate for Kindergarten and Pre-K.
Diane has 30 years of experience teaching both young children and adults in a variety of settings including public and private universities. She is owner of Early Childhood Specialties LLC, which provides training and consulting services to early childhood professionals.
We're sorry but registration for this event is full
United Way Location: