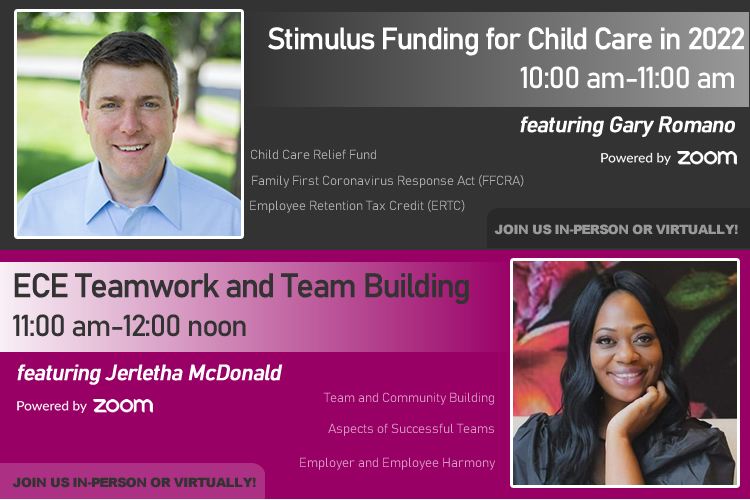 Happy New Year to ALL!
It is hard to believe that 2022 is here. Like you, we are hopeful the pandemic is on its last legs and we can get back to some sense of normalcy. The early childhood industry has been hit hard by it (the pandemic). According to the Center for the Study of Child Care Employment, Child Care as a whole has lost 111K jobs since February 2020. With that being said, it looks like we are slowly recovering, but we all need to keep our skills sharp and stay abreast of the resources available to us as early childhood educators.
Our February Seminar is the first in-person offering for CHILD in two years. We understand that not everyone is comfortable congregating with others to attend a training, so we will continue to offer our sessions virtually as well.
We are excited about this session as it features two heavy-hitters in the field. We encourage you to sign-up and enjoy the presentations from Gary and Jerletha. You will leave this session with a smile on your face and a lot to take back home and unwrap.
Join us in kicking our 2022 off with a BANG!
Seminars will be presented via Zoom and a Zoom link will be sent to registered participants several days prior to each seminar. Our in-person attendees will watch these sessions via Zoom at the United Way of Greater Houston and will receive a goodie bag and a boxed lunch.
All attendees will be registered to win a $200 gift card courtesy of Lakeshore Learning.
COST – $7.00
A certificate for 2 Clock Hours will be provided
---
Date: February 8, 2022
10:00 am – 12:00 noon
Training Title: Stimulus Funding for Child Care in 2022
Presentation Time: 10:00 am-11:00 am
Trainer: Gary Romano, CEO – Civitas Strategies
Description: A new year brings new opportunities for child care providers affected by the COVID Pandemic! Join Gary Romano to learn about the 2022 financial opportunities designed to assist the early childhood field.
Gary's session is made possible by the Texas Workforce Commission.
Training Title: ECE Teamwork and Team Building
Presentation Time: 11:00 am-12:00 noon
Trainer: Jerletha McDonald
Description: The ECE Teamwork and Team Building workshop will encourage participants to explore the different aspects of a team, as well as ways that they can become a top-notch team player. Participants will be given the details and concepts of what makes up a phenomenal ECE team and community. Participants will learn what factors into being a successful team and team member.